---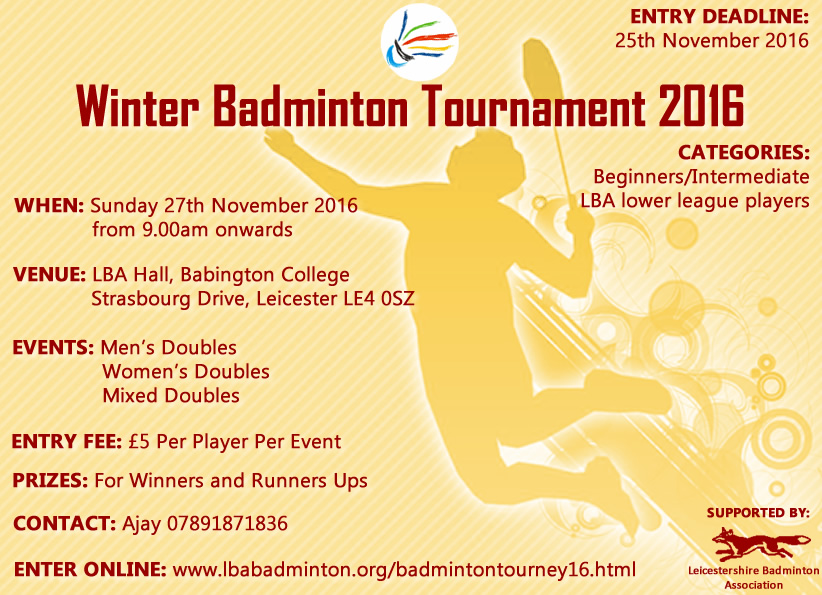 To enter fill the form in here.
---
Anyone want to play casual badminton, come down to the
No Strings Badminton Session @ Babington College, Every Saturday 6.00-8.00pm.
Cost is £4.00 per session (concession offered for under 18's).
The session is open to anyone 16 and over, any level of play. Shuttles and rackets will be provided incase you don't have any of your own. Spread the word to anyone interested. Many thanks!
---
Latest Update 17th November 2016
Tables updated - New Website launching soon!!!

We now have had sufficient results in to do a worthwhile update of the tables, there can be found here.

I am also working on a new website which will be launched soon. Watch this space!!!

For those wishing to leave any comments/feedback on the website, please do so by emailing me at: lbawebmaster@lbabadminton.org
Ajay Pitrola
LBA Website Manager
WANTED: OLD RACKETS / USED SHUTTLES

A number of Leicestershire coaches are currently undertaking a lot of coaching assignments. If any club has a surplus of used shuttles or any member has an old racket(s) that never get used would they kindly consider donating them to the coaching cause. Greg Howes will arrange to collect if necessary. Please email leaguesec@lbabadminton.org with details. Thanks.


Current League Secretary's Report
Panthers badminton teams have recently returned a run of impressive victories. Their ladies are newcomers to the league and have started their campaign with back to back home wins and take an early lead in division 3. Panthers second mens team won comfortably at Birstall but had to fight hard for a win at Loughborough Tech where Richard Andrews and James Freer took a maximum for the home side. Unbeaten Panthers remain second in division 6a close behind Shepshed.

Elsewhere in the ladies league, Loughborough Leys seconds edged Meltonshire largely thanks to a Megan Sell/Jane Rayner maximum, which stretches their lead at the top of division 2.

In the topflight mens league, South Leicestershire will be disappointed to have out-pointed Loughborough Town, only to have gone down 6-3 in rubbers. Several games set to two points with Town winning the vital ones and having the only unbeaten pair on the night in Tom Armstrong and Ryan King. In division 2 Meltonshire edged out Longslade seconds and followed up with a similar win against Loughborough Students thirds, despite an unbeaten return by Students John Jo Pye and Oliver Pattison. Regal Arts seconds stretched their lead in division 3 after a overcoming a strong South Leicestershire second string, whilst Quorn go top of division 4b. In division 5a Melton close in on leaders Ashby with a vital win against Croakers seconds; Neil Hunt and Steve Heath with an unbeaten display.

In the mixed league, Leys thirds remain unbeaten after victory against the Students second string; Megan Sell and Ross Halliwell returning a straight games maximum on the night. Central seconds achieved their first win of the season against Quorn with Jo Deacon and Edward Hayes taking a maximum three rubbers. In division 5b Croakers seconds go top after edging a weakened Mundella team.

Greg Howes
League Secretary
Scoresheet
Anybody wishing to download a copy of the scoresheet can find it here. Alternatively visit the Downloads section for other useful documents.
Overdue Results
If you believe that there are any discrepancies on the above or the match was rearranged for a later date, please contact the League Secretary as soon as possible or email leaguesec@lbabadminton.org.
Results Approaching the 21 Day Deadline
I've included a new table below with results that are approaching the 21 Day deadline limit. This is to help identify results that are still outstanding. Please send these results to the League Secretary as soon as possible so you do not risk that the result is voided according to the rules.
If you believe that there are any discrepancies on the above or the match was rearranged for a later date, please contact the League Secretary as soon as possible or email leaguesec@lbabadminton.org